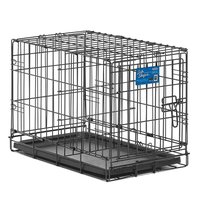 Crate training is the fastest and most humane method of housetraining dogs. Have you ever seen a dog under a table, chair or bed? The reason is that dogs naturally want to seek shelter, even in a house. If you don't provide it, they will create it themselves in an effort to feel safe and secure. Dog crates can serve as a den for your dog.
High Quality, Affordable Dog Crates

Most people know that crate training is one of the fastest and most humane ways of housetraining puppies. But did you know that, like humans, all dogs large, small, and in-between love having their own space to call home for security and confidence? Can you blame them? All of which is why we and the experts advocate the use of crates for puppies and even more senior dogs.
With Pet Dreams you can order and rest in confidence:
Highest Quality Dog Crates, Pet Crates & Kennels
All of our dog crates are manufactured to last for years and years. Indeed, we want your four legged friend to have just one place to call home!
10 Day Return Policy
If for some reason you are not 100% satisfied with your dog crate purchase -or any Pet Dreams purchase- simply return within 10 days and we'll offer a full refund. No questions asked.
Pet Dreams Difference
First and foremost we're dog lovers who put safety, comfort, and security first and foremost. Indeed, we strive to provide quality and comfort with an eye toward forward thinking design. After all, your dog crates and beds should match, not clash with, your decor! But we're also real people who want to help -we're available to assist in choosing the best dog crate for your needs.