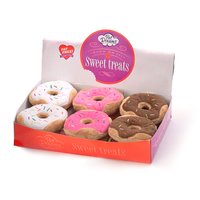 Plush Doggie Toys Look Good Enough to Eat!
The donuts are approximately 4" round and have 2 squeakers in each one.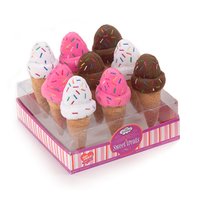 Now you and your dog can share your favorite treat!
The ice cream cones are approximately 6" long and have 1 squeaker in the top and a crinkle cone.
Cute, Plush Dog Toys that Look Good Enough to Eat
Who doesn't love sweet little treats like ice cream and donuts?
With Pet Dreams you can get your best friend in on the action, as our adorable stuffed toys for dogs look, well, good enough to eat! Affordably priced, made with the highest quality materials, and meticulously designed, our Sweet Treats dog toys are sure to quickly become your four legged friend's favorite. Beautifully crafted to look real and like nothing else, these plush dog toys will make play time all the more fun, adorable, and special. For the extraordinary dog give a Sweet Treats dog toy!